I'm sleepy partly because I fell asleep before 9PM last night and then woke up at 3AM super hungry! I ate some leftover Thai food and proceeded to watch some "Fresh Off the Boat" on Hulu for a while, then went back to sleep around 5:30AM. Feeling quite disoriented, here are my 3 things I'm obsessed with this week:
1. Fresh Off the Boat
Of course this is going to be in this post! Not sure what I would have done when I woke up this morning if Hulu didn't have new episodes of this show. Probably watched something else, but I love this show! Since I'm mostly Asian and there really isn't much Asian representation on television that isn't horribly stereotyped, this show is refreshing…and relatable for me, even though I'm not Taiwanese. If you haven't checked it out yet, you must. Also, Tim Heidecker (from "Tim and Eric, Awesome Show, Great Job!") had a cameo as the main character, Eddie Huang's teacher in one of the episodes I watched last night about a mix tape. I'll probably watch that one again with the kids.
2. Chirashi Bowls
This particular Chirashi bowl was from I Love Sushi on Victoria Blvd in Ventura, CA, across the street from the Courthouse. I was on lunch from Jury Duty. If you've never had a Chirashi bowl, get one!
3. This GIF: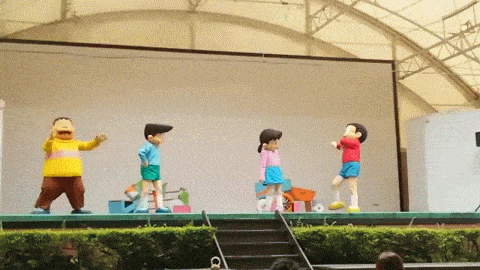 Today for whatever reason, I was (am) very, very sleepy. No matter, some things must go on, like the 3 Things blog post! Here are 3 things I'm loving this week
1. My New Glasses!

They are Penguin brand, red, and fantastic! The first pair of glasses I've ever put on and was like, OMG I LOVE THEM. So, I'm pretty happy! If you need a good Optometrist and are in the Ventura County (or even LA county) area, check out Dr. Rogers, he is the best!
2. Scrunchies
That's right, I love them. Truth be told, I never really fell out of love with them. With the resurgence of all things 90's, these babies are back and better than ever! They are so comfy and easy on the hair follicles! I will be making a line of scrunchies for my shop at Heavenly Skull!
3. This DIY Behind the Sofa Table
I've been looking up ways to make small spaces more livable and this idea kept popping up. I want to make one!
Hi everyone! Thanks for checking back in with me on my newest Saturday blog, 3 Things! Here are 3 Things I'm obsessed with this week:
1. My "Paz y Amor" Shirt from ShopMiVida.com


Translating from Spanish to English as "Peace and Love," it's something we all could use more of. The style of this shirt along with the very cool papel picado inspired graphics of the shirt fit my style perfectly. You must follow their instagram @shopmivida since they post beautiful pics and flash sales there.
2. My Diet is Better Than Yours
This show with no other than Insanity's Shaun T as the host, is really addicting (we've been binge watching it on Hulu anytime we get a chance) and extremely informative. With different contestants all wanting to find the best plan for themselves to lose weight, and several different trainers touting their plans as the best, it is a competition for all. My personal favorite has been The Wild Diet, which reminded me that I was doing the Ketogenic diet for a while, then got derailed because some personal issues that I'm not dealing with anymore. I remembered that it was working really well for me, and it was easy for me. So I'm back on it! I'm feeling great and not craving so many unhealthy things. More on that later!
3. Peppermint Tea


Organic Peppermint tea of course! This hot drink is great for the digestive system and has a calming, soothing effect that is perfect for bedtime. I also drink it at work after eating a snack or when things get hectic, to soothe my mind. In addition to the taste being minty and refreshing, inhaling the fresh, peppermint scent is instant aromatherapy. If you haven't tried drinking peppermint tea on a regular basis, I highly recommend it!
It's been a while since I've posted, but I'm back! Once again, life got derailed, but did it really get derailed? Isn't that a huge part of life? Isn't that how we grow and learn? Like a phoenix rises through the ashes, we transform many times throughout life if we allow ourselves to. I am currently learning how to let go, not be bitter or angry about this part of life, and embrace all of its many marvelous benefits.
All that being said, it's time I start posting here again! A weekly blog I've been wanting to do for a while is "3 Things." It's any 3 things I choose that week that I am obsessed with or have discovered and want to share with the world. Here are my "3 Things" this week:
1."Modern Man" by Arcade Fire
I know it's not a new Arcade Fire song, but I have not been able to stop listening to it. It has been on loop, as the entire album "Suburbs" has been. While I have heard the album before, this week in particular, it's like I've rediscovered it all over again. It speaks to me on a completely different level that it never could have before going through this current molting process.
2. Pitted Dates with Dry Roasted Salted Almonds
Seriously, this was an accidental discovery at work. I had a separate bag of pitted dates and a separate bag of dry roasted salted almonds. They were both almost empty and I didn't want to have two half empty bags on my desk, so I combined the two. What happened next was a party in my mouth. Seriously, the way Remy in Rattatouille got when he combined two different foods that went together, and the fireworks were bursting in his mind? That's what happened. The warm sweetness of the dates paired perfectly with the nutty, salty almonds. The best ratio was about 3-4 almonds per date eaten at the same time. Seriously, try it and tell me how you like it!
3. Sacred Contracts: Awakening Your Divine Potential by Caroline Myss
I was a bit skeptical, as I try to always be when it comes to spiritual reads, but the more I read on, the more eye opening this book was and continues to be. I borrowed it from the library, but I need to buy my own copy because I need to write in and all over this book. Remember that whole molting, rising out of the ashes thing I was talking about? This book truly has had a huge part in opening my mind and awakening all the parts of me that needed to be at this time of my life. Whatever stage you are in your life, I encourage you to pick up this book. I'm not being paid to promote this at all, just as an FYI. It has truly touched me and allowed me to open my mind and heart where I felt lost and angry.
Well, that's it for now. Thanks for reading my first "3 Things" post. If you decide to check out any of the 3 things I post about, I'd love to hear feedback. If you have things that you recommend, please share! I'd love to hear about it!
Hi everyone, I just started this transformation detox/cleanse today. So far, so good. A little rough, a little grumpiness, but I actually do feel pretty good. More on this later. Please LIKE this page for more info: https://www.facebook.com/Superfoods4transformation
What a magical photo set. Sometimes the simplest things are the things that hold the most of life's magic. Just thought I'd share. 🙂
By Niki Photography
I really do not know who was more happy kids or myself when we heard magical world pinata. The best 1st Birthday Party I have ever attended! Location: Golf Course, Houston, Texas. Looking for a photographer? Drop me a line to: by.niki@yahoo.com
Our original giveaway winner had to decline because she already won one another site. So, we get to choose another winner! Very exciting! Winner is chosen at random, but the winners had a better chance at winning by reposting multiple times. The NEW WINNER IS…
Cheryl Free!
Congratulations! I just left a message to contact me about shipping it out to you.
Thanks everyone!